The IRNDP International Webinar on Dementia Prevention aims to promote researchers from all over the world who are working to reduce the risk of cognitive decline and dementia.
The theme of this inaugural webinar is cutting edge research in cognitive health, aging and dementia. We encourage researchers from all stages of their career to participate.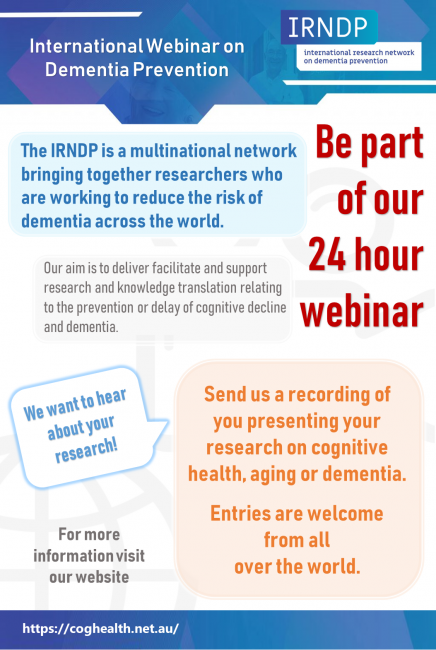 We are currently in the process of calling for entries. If you would like to be part of this global event, please send us a recording of your presentation that covers the following points:
What is your research project?
Why is it important?
How is it cutting edge, and/or how does it advance the field?
This 24 hour event will be broadcast as an online stream to researchers all over the world. We strongly encourage early career researchers and researchers from low-middle income countries to join in this fantastic opportunity for research dissemination and knowledge translation.
Directions on how to record your presentation
We accept PowerPoint recordings and/or video recordings of presentations. However, please only upload high quality recordings. If the graphics and/or sound are of poor quality we may not be able to use your presentation.
Presentations must be a minimum of 15 minutes in duration (there is no maximum limit).
PowerPoint Recordings 
Please follow this link for guidance on how to record your presentation through PowerPoint: How to record a slide show with narration and slide timings
Video Recordings 
Visual aids are encouraged (e.g. powerpoint slides, demonstration of lab equipment) in video recordings. We also accept video recordings of presentations from another event provided that all relevant permissions have been granted and that the video was recorded within the last 12 months.
If you have a presentation ready to go, please submit it by clicking here. 
Presentations will be accepted on a rolling basis until capacity is reached.
If you don't have a google account and are unable create one, please contact us by clicking here.
It is the responsibility of individual who submits the presentation ensure that the content you submit does not contain third party copyrighted material, or material that is subject to other third party proprietary rights, unless you have permission from the rightful owner of the material or you are otherwise legally entitled to submit the material. We reserve the right to reject or take down any presentations that infringe upon copyright.