"After many months of preparation and discussion a small group of researchers from Australia, the UK, the United States and Malaysia have formed the International Research Network on Dementia Prevention (IRNDP)," writes Professor Kaarin J Anstey, in her first blog as Chair of the newly-formed network.
The impetus for the initiative was a pledge the Australian Government made to the World Dementia Council in 2015 to establish an International Network on Dementia Prevention (INDP).
'R' is for..
The 'R' for research crept into the title as this governmental collaboration coalesced with a groundswell of researchers expressing a desire to form a network to link together those with a passion for reducing risk of dementia and possibly preventing it altogether.
So here we are in June 2017, ready to launch the IRNDP formally in London at the Alzheimer's Association International Conference!
Why is this initiative so important?
Globally, dementia cases are increasing at a rate of 21 per cent annually, and most of these are occurring in low to middle-income countries. With no cure for neurodegeneration or the diseases that cause dementia, it's time to link both knowledge translation and researchers more closely together in a global effort to tackle prevention much more effectively.
The problem of dementia just gets bigger
With an estimated 46.8 million cases globally and new cases occurring every 3 seconds, the prevalence of dementia is greater than the global prevalence of HIV. In response the World Health Organisation, the World Dementia Council and other major organisations are prioritising international efforts to address the problem.
While other areas of population health are well-established, dementia prevention research is relatively new. This means we have a small evidence base in any individual domain, and worse, the messages in our field are often oversimplified. Thus there is a false impression that we already know the answers.
We are far from having all the answers, and probably don't even know all the right questions to ask!
More to be done
Talking with students, postdocs, policymakers and colleagues, I find there is a general urgency to do something more about dementia prevention, to share what we already know, to get the message out!
As a scientist, I have found that there can be a perception that academics are not always in touch with the real world, but I have found the opposite to be true in the field of dementia prevention.
Dementia touches everyone

Most of us working in the field have been touched personally by dementia affecting an immediate family member or friend, many of us have lived experience of caring for a person with dementia and we are driven to conduct research to make a difference.
Again and again, I find that people across different sectors have the same goals. We want to find ways to delay or prevent dementia and to help governments, clinicians and individuals make changes to reduce their risk. To achieve our individual and collective goals we need to work together.
More help … wiser collaboration
Among researchers, many of us want to find like-minded people to discuss and share ideas with and to find out how different groups run prevention trials.
Among policymakers, there is a common need to link with researchers who are across the evidence base so that government policies and resources can be as effective as possible.
Although there are some organisations located in specific regions or with a narrow focus, we haven't had an openly available network to link together researchers and policymakers worldwide, who are interested in dementia prevention. That is why we've developed this network.
Big gaps to fill
There are huge gaps in our knowledge. This means that opportunities to collaborate, communicate and network in a global sense – especially as the prevalence of risk factors and patterns of exposure vary from one population to the next, and between high and low or middle-income countries – becomes more paramount.
More targeted research
Targeted research to provide an in-depth knowledge and understanding of dementia risk factors is needed in order to develop targeted public health messaging and resources across the globe. To do this we need wide-ranging systematic reviews, meta-analyses, epidemiological studies, and clinical trials using local expertise and knowledge from both high and low-middle income countries.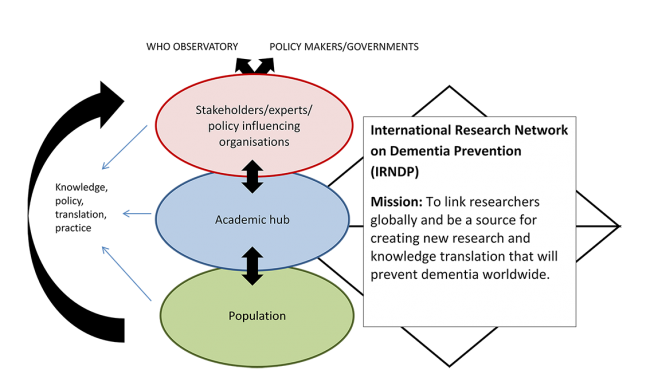 Fig: IRNDP: sharing policy, translation & practice with stakeholders and the general population through sound research
IRNDP aims to create a global community of scholars and policy-makers working toward the same goals. At the same time we will be supporting and encouraging emerging researchers to build global capacity in dementia research.
Support and expertise
With the right support and mix of experts, IRNDP can have an important role in collaborative research efforts that will smooth the way to making evidence-based, nuanced, dementia risk reduction strategies part of more general chronic disease management and prevention strategies around the world. One major outcome would be that such risk reduction factors will be culturally or regionally specific to meet local population health needs and resources.
Join us
If you would like to be part of a scientific community dedicated to sharing knowledge and expertise on dementia prevention then do consider joining us. Membership is open to anyone with an interest in dementia research including researchers, health professionals, carers of people with dementia, and people with dementia.
Kaarin has led the establishment of IRNDP since its inception and is the Chair of the leadership committee.